Combat the 2 biggest global security issues with zero Knowledge ID-based Single Sign On and 1st-party Analytics
GDPR fines hit fast-growing businesses hard last year for accidental or careless EU GDPR violations. Creating a Privacy First culture will negate data breaches, stop data abuse and improve data security. Using easy-install technology, you can now get 1st-party web Analytics with Web2+Web3 Single Sign On functionality.
Show customers you take data privacy seriously and protect your users from data theft with Concordium zero Knowledge ID layer Single Sign On, and install 1st-party Analytics to make your data foundation legal and compliant.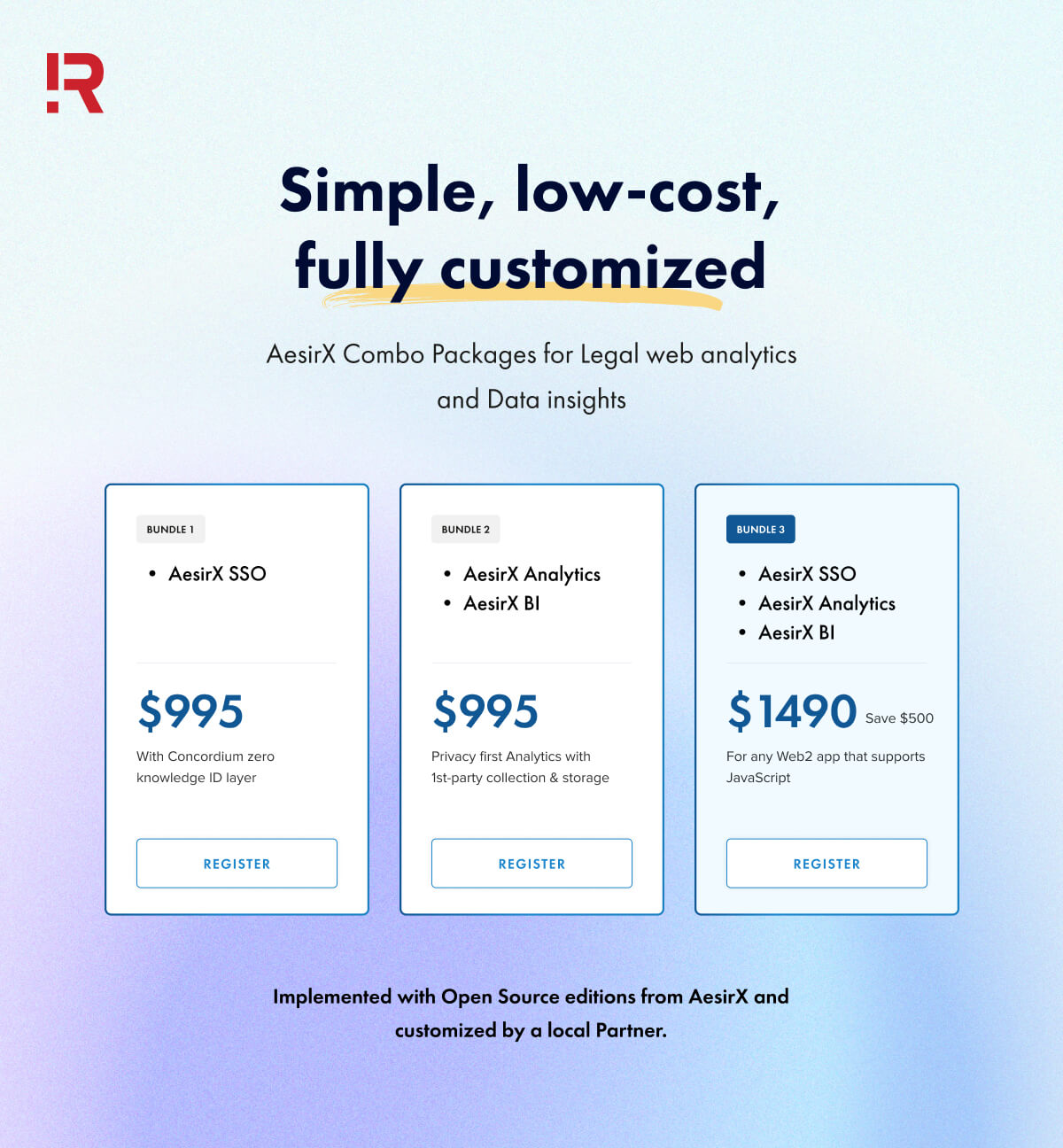 Concerned about internet privacy? You should be.
With new security laws globally, like GDPR in Europe (that actually affects all countries), and California's Consumer Privacy Act (CCPA), collecting and storing personal data online must be done compliantly.
We all know that BigTech has been criticized for a long time for collecting too much information about Internet users, using aggressive third-party tracking, and sharing information where it shouldn't be. 'Leading' Analytics providers have raised some of the most serious privacy concerns to date, and in recent years, companies have been fined hundreds of millions of dollars for not being legal.
Data abuse
Online data is primarily collected using a 3rd-party JavaScript, which means it's loaded from another domain name than yours and is in fact in violation of GDPR.
Password breaking
One of the most common attacks on the web is automated password-breaking attempts against website administration interfaces, such as WordPress, with up to 100+ million attempts every day.
1. Now, there's a LEGAL, simple and low-cost solution
AesirX Privacy-First technology and Concordium zero Knowledge ID Layer resolve two of the biggest security issues of the internet - data abuse and password breaking. 
AesirX Analytics + AesirX BI
You can switch to legal 1st-party web Analytics that provide 1st-party data insights and Business Intelligence for your organization across multiple platforms and devices. AesirX Analytics and BI come with a locally hosted JavaScript solution that collects and stores data legally and compliantly.
AesirX SSO
Single Sign On with Concordium zK ID Layer will ensure zero-knowledge security. It can also be turned on for your users to give them the option to log in securely using zK security.
Get AesirX Analytics, AesirX BI and AesirX SSO fully customized with your brand's identity implemented on any Site, Shop or App that supports JavaScript in just a few days.
Until now, no one has offered a privacy first Analytics tool with Web2+Web3 Single Sign On functionality.  
Bundle 1: Get AesirX SSO with Concordium zK ID layer fully customized for $995.
Bundle 2: Get AesirX Analytics with AesirX BI fully customized for $995.

Bundle 3: Or combine both bundles (all 3 products) for only $1490 and save $500. 
TRY THE DEMOs
2. Are Your Current Analytics Tools Illegal?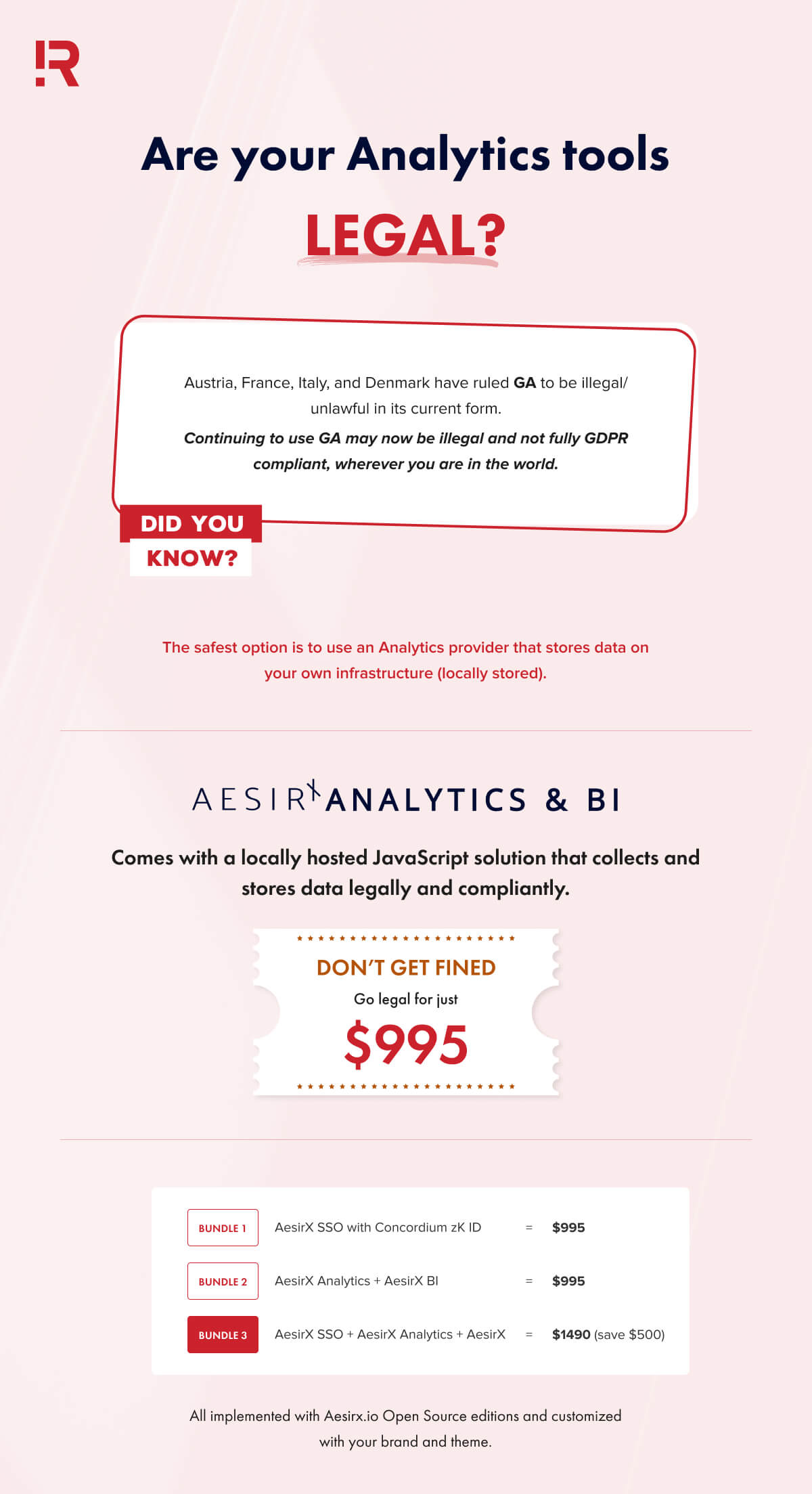 Are you GDPR compliant and data secure?
3. Packages
R-Digital is offering legal, privacy first tech bundles that are pre-customized with your brand and theme, ready to use. Just simple implementation, easy to use, but with powerful results.
For a one-off implementation payment of just $995, get AesirX SSO or AesirX Analytics with AesirX BI, or combine both packages (so all 3 products) for only $1490 and save $500.
Package

Product - Open Source Edition + Customization + Implementation

1-Off Payment

Bundle 1

AesirX SSO

(+ Concordium zK ID layer)

$995 [INQUIRE]

Bundle 2

AesirX Analytics + AesirX BI

$995 [INQUIRE]

Bundle 3

Bundle 1 + Bundle 2 = SSO, Analytics, & BI

$1490 [INQUIRE]

SAVE $500
4. What is AesirX?
AesirX Analytics and AesirX BI collect 1st-party data analytics and provide compliant Business Intelligence data so that you can personalize the customer experience, optimize your marketing performance and streamline operations - yet you can do all this knowing you've gathered data compliantly and ethically.
AesirX SSO has Web3 wallet integrations (using Concordium zero knowledge ID technology) for secure, easy login, and which allow any users visiting a site to '1-click' consent for their data to be used legally.
When combined, AesirX Analytics+BI with AesirX SSO adds cross-site tracking and digital marketing capabilities including retargeting and pretargeting.
5. Features
Make better data-driven business decisions with all the following features.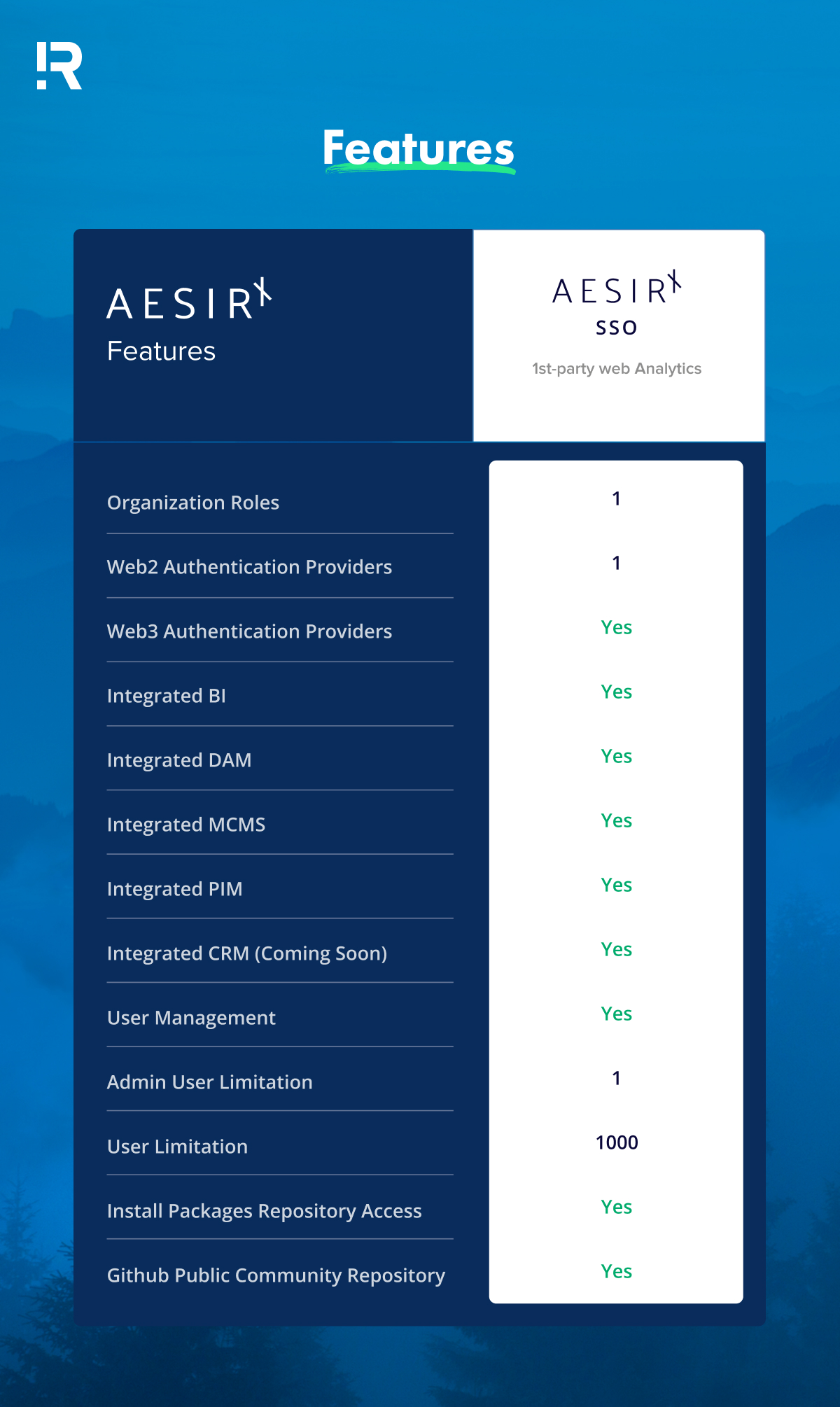 Privacy First means that people have the right to not be tracked, both online and offline.
6. Options
Purchase any package - to order, click on your chosen Package below and you'll connect with a local Partner.
Package

Product - Open Source Edition + Customization + Implementation

1-Off Payment

Bundle 1

AesirX SSO

(+ Concordium zK ID layer)

$995     [INQUIRE]

Bundle 2

AesirX Analytics + AesirX BI

$995     [INQUIRE]

Bundle 3

Bundle 1 + Bundle 2 = SSO, Analytics, & BI

$1490   [INQUIRE]

SAVE $500
7. Contact Us
To know more about AesirX Packages and Solutions from our Vietnamese Advisor, message Ronni at ronni@r-digital.tech
Connect with R Digital