1. 1st Party Data and the prevention of data abuse
One of the most commonly used attack forms on the world wide web is through JavaScript, which is why browser manufacturers, like Mozilla, who is behind the browser Firefox, have increasingly started to block JavaScript, as well as Cookies, for visitors to websites as a standard.
The result is that with users rejecting data tracking, and browsers and devices rejecting per default, i.e. not even asking the user, today, less than 50% of data is actually collected and the data that is collected is primarily collected using a 3rd-party JavaScript, which means it's loaded from another domain name than yours and is in fact in violation of GDPR.
Your legal reason for allowing a 3rd party to collect and own your users' or customers' data is no longer valid. Facebook and Google are not allowed to abuse personal information and their "consent models" have been rejected one after the other, so chances are, you will not get away with it either because Consent can no longer be given to abuse Personal Information.
This leads to a very different use case for JavaScript compared to today, because JavaScript has been an instrumental part in the ongoing attacks on users on the world wide web, JavaScript itself is being handled differently based on if it is loaded from your own 1st-party domain or from a 3rd-party domain.
Browsers will impose much harsher security and limitations on any JavaScript that is loaded from another domain name than yours and if a JavaScript is used for tracking purposes, chances are the browsers will block it per default, without even asking the user, because Privacy First also means that people have the right to not be tracked, both online and offline.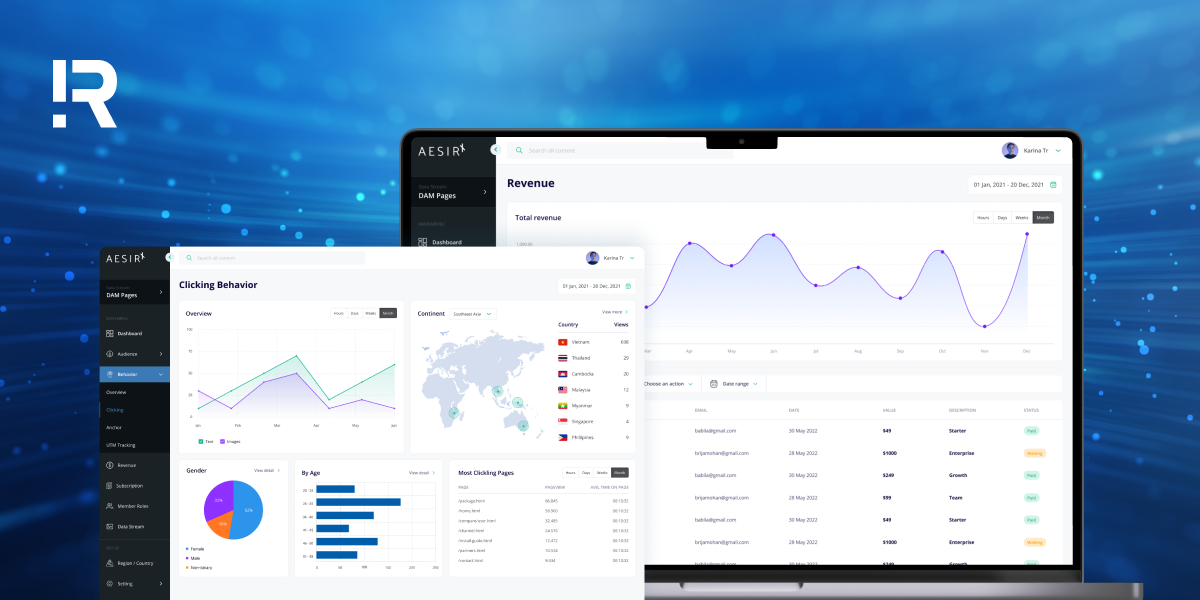 2. 1st Party Analytics
AesirX Analytics is a 1st party JavaScript Collector you install on your website and host yourself, it comes with a 1st-party server that stores your data 1st party. This makes your data foundation collected from the world wide web legal and compliant, and when you own the data collected from your own website, shop or app, you can legally use the behavioral data collected from the user experiences.
AesirX Business Intelligence is the dashboard where you can access AesirX Analytics, it connects seamlessly and also supports multi-site reporting.
3. SSO, the missing zK ID link
AesirX SSO + Concordium zK ID Layer enabled as default for Admins and Admin login disabled in any other means will ensure zero Knowledge based security, and it can also be enabled for all users of any site, shop or app to allow for optional secure login using zK security.
When sign-in is done using a zK ID based SSO, there is no personal information exchanged and there are no known ways of brute forcing access as seen with WordPress and other Content Management Systems.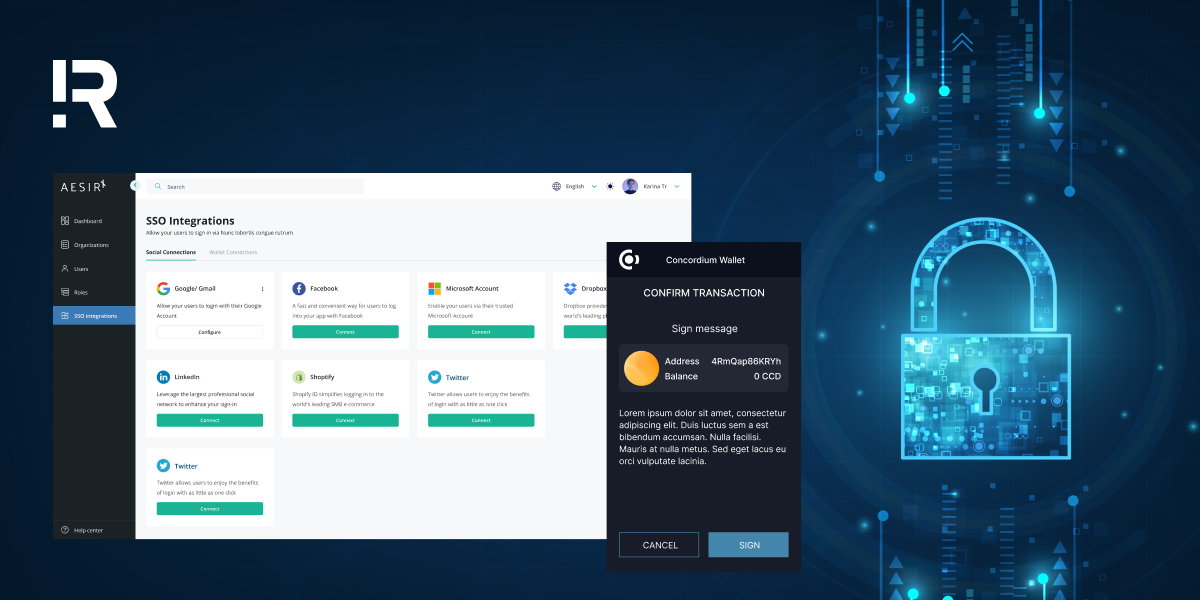 4. 1st Party Data + zK SSO
AesirX Analytics in combination with AesirX SSO adds Cross-Site tracking and digital marketing capabilities including retargeting and pretargeting.
It works in a completely new way whereby the visitor will be presented with an option to "login" to any given site, shop or app using the AesirX technology to 1-click login using their blockchain wallet.
AesirX SSO has native Concordium zK ID layer support resulting in a 100% secure login that is risk free when it comes to brute force attacks but also at the same time, it enables the anonymous tracking of behavioral data that can be shared across sites, shops and apps to improve the user experience.
This is what we have been doing with cookies, but cookies and tracking of personal information is not legal and will be enforced with heavy fines, as we see with Meta and Google and the heavy rainfall of fines that are landing on them currently from all sides but with the majority of issues coming from the US and EU.
Now we take it to the final phase of maturity by giving actual consent back to the users, and by using a zK ID Layer we completely remove the need for personal information to be used or abused for Cross-Site tracking and digital capabilities, while ramping up security to a 2023 Privacy-By-Design worthy level.
With the unique combination of AesirX Privacy-First Technology and Concordium zK ID Layer Blockchain, two of the biggest security issues of the world wide web are handled, and on top of that you get 100% data foundation and compliance as well.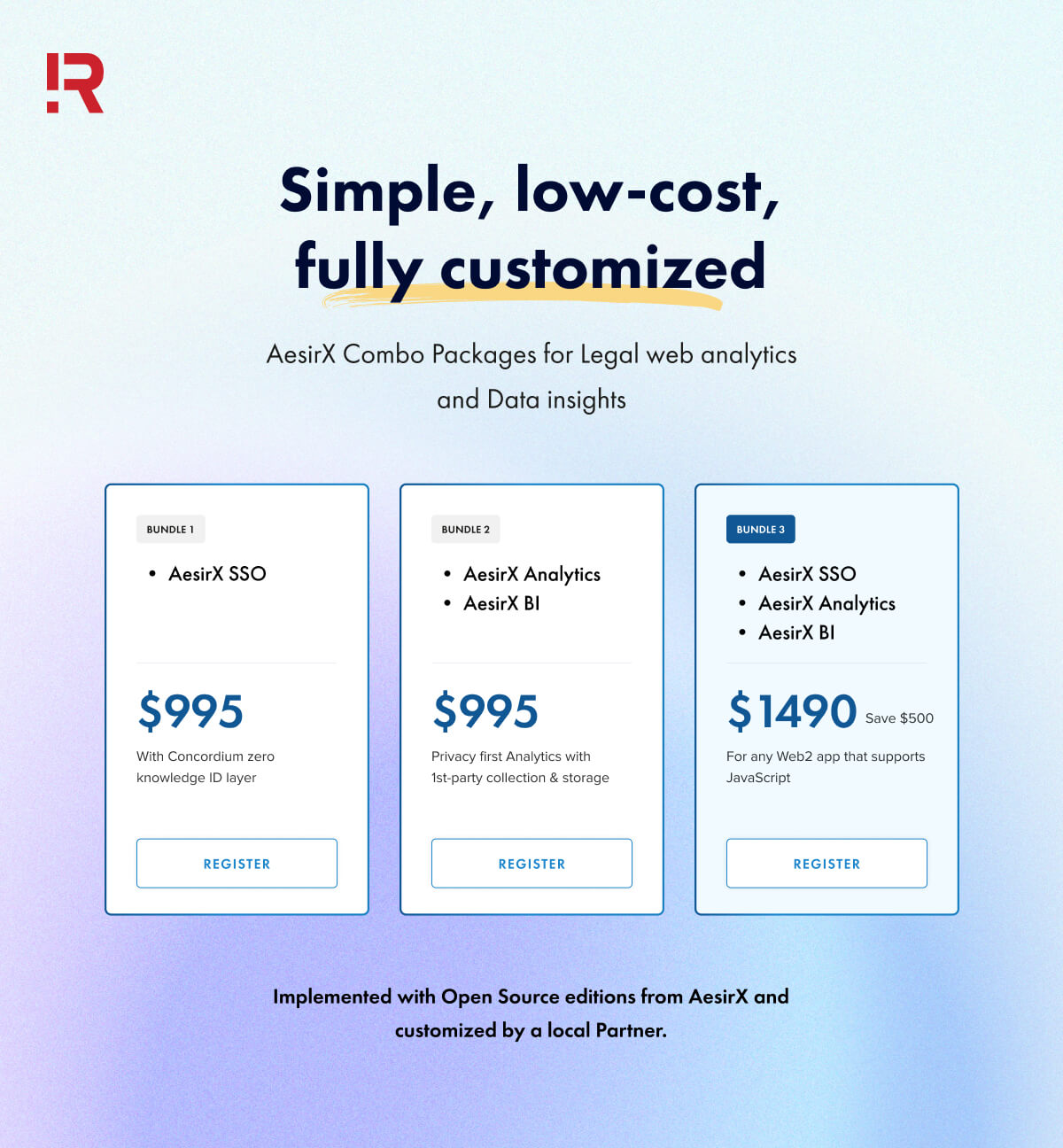 5. Packages
R-Digital are offering legal, privacy first tech bundles that are pre-customized with your brand and theme, ready to use. Just simple implementation, easy to use, but with powerful results.
For a one-off implementation payment of just $995, get AesirX SSO or AesirX Analytics with AesirX BI, or combine both packages (so all 3 products) for only $1490 and save $500.
Purchase any package - to order, click on your chosen Package below and you'll connect with a local Partner.
Package

Product - Open Source Edition + Customization + Implementation

1-Off Payment

Bundle 1

AesirX SSO

(+ Concordium zK ID layer)

$995 [INQUIRE]

Bundle 2

AesirX Analytics + AesirX BI

$995 [INQUIRE]

Bundle 3

Bundle 1 + Bundle 2 = SSO, Analytics, & BI

$1490 [INQUIRE]
6. Contact Us
R Digital
To know more about AesirX Packages and Solutions from our Vietnamese Advisor, message Ronni at ronni@r-digital.tech
Connect with R Digital