1. Digital Experience Platform (DXP)
In our current digital world, businesses stay competitive by building connections and relationships through communication, which requires listening and speaking.
Brands tend to use data to listen and content to speak.
By speaking and listening to prospects, customers, staff, partners, and other audiences, Digital Experience Platforms provide companies with an integrated set of tools to establish meaningful interactions.
They allow businesses to track customer activities, behavior, and interactions throughout the entire customer journey and transaction process.
Based on collected user behavior data, with the Digital Experience Platform, enterprises can deliver engaging and highly personalized content to targeted customers at the point of interaction. The main aim? To guide the customer through the conversion steps so they reach the end goal, whether you want that to be a purchase, a filled out contact form, downloads, etc.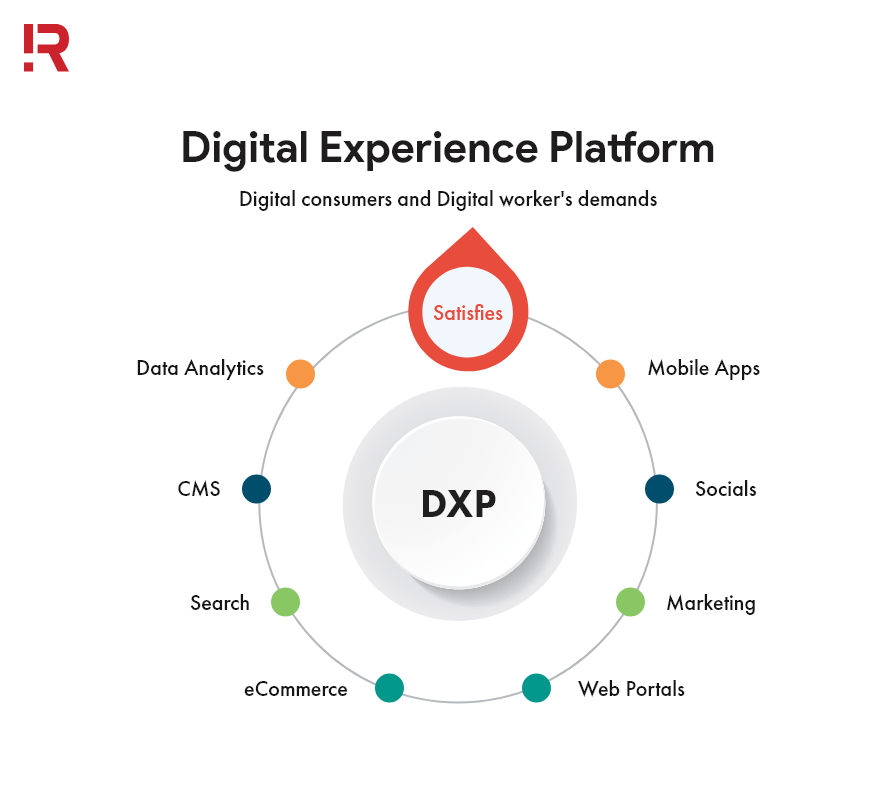 Multi-channel interactive data collection
What's the purpose of a Digital Experience Platform?
The main aims of a DXP are to digitize business operations and collect customer data to be able to improve customer profiles (User/Customer Profile) and customer portraits (Customer Personas) in the future.
Let's break that down.
User/Customer Profiles need data. They are the quantitative part of the puzzle.
Customer Profiles describe customer groups based on known data or facts. Because of this, profiles tend to be more numeric and include demographics such as age ranges, genders, locations, lifestyle attributes, and behavioral attributes like what they interacted with or what they purchased.
Customer Personas focus on the why of customer behavior, not the what.
Personas constitute the different user types and the similar behaviors and attitudes towards a brand, a site, or a product within the targeted demographic.
1st Party data is collected (ensure your DXP does this legally and is GDPR compliant) and can be used to improve the customer and staff experience, making a more meaningful and personalized affair. This can be done without cookies and delivers far better results without hurting your brand compared to "hunting" potential customers using cookies.
Solve your lack-of-sales problem with a Digital Experience Platform
A Digital Experience Platform will increase your revenue. Full stop.
Fully connecting and integrating platforms or apps means you can better manage all your tech in one place and reduce costs. In fact, some of the best DXPs can save you up to 80% on Digital Marketing expenses.
Having full analytics and being able to tap into the customer journey allows you to strengthen customer relationships, deliver personalized experiences, improve customer satisfaction, and ultimately, raise revenue.
2. Advanced technology to surpass competitors
The digital age with advances in science, engineering, and technology also pose challenges for businesses. As trends come and go, as society develops, preeminent tools are needed to survive and grow in this 4.0 era.
Many businesses have joined the race in the Digital Experience Platform market to solve digital transformation problems, reduce costs, and build a data platform as a basis to defeat traditional business challenges.
Link & control your operations on multiple platforms
Most customers use multiple platforms on their path to purchase.
A Digital Experience Platform can integrate with different marketing and commerce platforms such as the web, email, e-commerce customer portals, social media platforms, mobile apps, chatbots, digital signage, virtual reality devices, POS systems, IoT devices, etc. If it's digital, there's a high chance it can connect and therefore provide support to customers and any given time, in any context.
Thanks to the flexibility of the API (Application Programming Interface - a type of software middleman that allows two applications to communicate with each other) you can collect data, deliver the right message, and provide a better experience tailored to each different interaction channel for your target audience.
It's not enough to just supply information to each channel; they must all come together to create a consistent, integrated, and ongoing experience that guides consumers toward a certain goal.
Strengthen relationships with your customers
Most businesses practice a "customer-centric" strategy and tailor their marketing methods to meet customers' needs. But if you don't know your customer's needs, how can you build the right marketing strategy?
A Digital Experience Platform can do it for you.
A DXP helps you collect information about your customers and even create consumer demand based on their behavioral data. By measuring results (from the DXP), and through direct interaction with customers, enterprises can build fantastic relationships with customers. Being able to deliver messages to the exact target audience will strengthen your position in the hearts of customers and boost loyalty.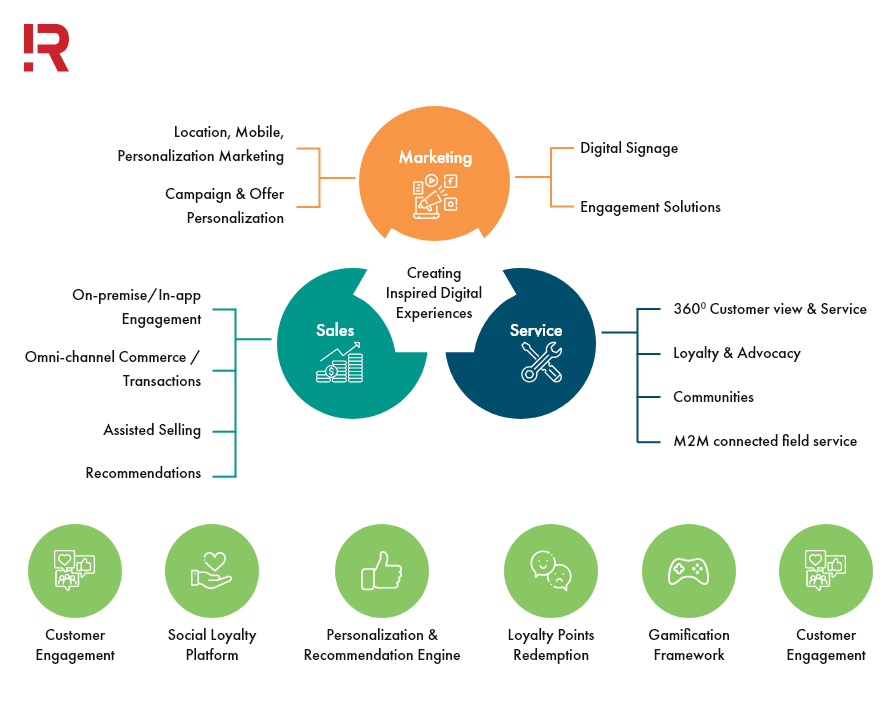 A Digital Experience Platform that personalizes the customer experience
Deliver a personalized experience
With a DXP you own a huge source of data, can collect valuable information and important insights that will drive customer decision-making, thereby optimizing multi-channel marketing strategies.
The uplift in personalized experiences increases conversions, and as a result, your business will be the first choice in customers' minds when they have related needs, thereby promoting transactions, developing business activities, and growing sales.
Aesir - the only DXP you'll need
Developed by R Digital, Aesir is a prime example of a Digital Experience Platform that helps businesses transform technology in the 4.0 era, increasing conversion rates, building stronger relationships with customers, and realizing potential.
Get Better Personalization
Deliver the right message to the right person at the right time with Aesir's 1st party personalization.
Integrations with other systems and social media enable a 360-degree picture of each consumer, as well as accessible dashboards and deep insights powered by machine learning.
Your customers get the right value at each touchpoint.
Get an Integrated Control Center
Aesir is delivered as a fully managed Platform as a Service (PaaS), including hosting, management, service, and 24/7 Support.
Save up to 80% on digital marketing expenses through customized channel integrations, and automation.
Combined omnichannel content management, customer data, and analytics-enabled experiences that increase customer retention.
Your customers get connected, consistent journeys.
Get Future-proof Flexibility
Be able to integrate new technologies, adapt, and engage with consumers as new technologies emerge or digital maturity expands.
No licenses per user - 1 installation for the entire organization (fixed cost).
Your audience can connect when they want and how they want.
Strengthen Customer Trust
1st Party Actionable Data, GDPR compliant, as well as Safe Harbour Data Storage options.
Get Content Flexibility
Drive your content marketing with engagement scoring, workflow, roles, and automation.
Use microservices and hybrid-headless CMSs to provide the same content across all channels, freeing up teams to create other content for greater experiences.
Your audience gets better experiences on preferred channels.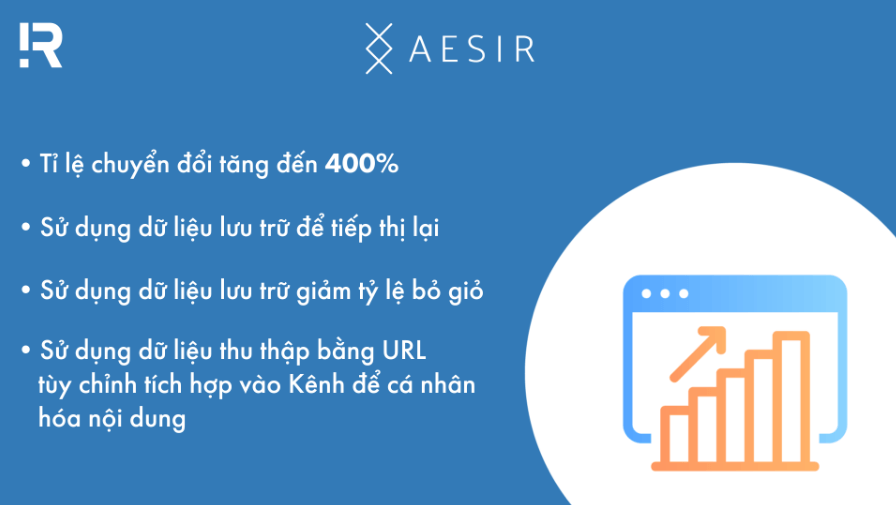 AESIR - The only Digital Experience Platform you'll need
3. In Summary
By leveraging the power of the AESIR Digital Experience Platform, you can capture multi-channel data, integrate into advertising channels, refine personalization tactics at scale, and deliver strategic business decisions that increase conversion rates by up to 400% and generate significant revenue.
Together with R Digital, you can build a successful business in the digital age!
>>> See more:
Would you know if your CRM or DXP is outdated? Connect with us and we can give you a free business analysis.
R Digital is a full-service global Digital Marketing agency that specializes in the development of Digital Experience Platforms. Whatever the size or reach of your business, we will develop a solution that fits.

For inquiries, questions, or appointments, don't hesitate to contact us. Get personalized support and insight from top marketeers.